Pastor Andrew Luehring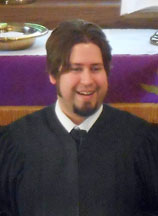 Jesus said, "The shepherd calls his own sheep by name and leads them out. I am the good shepherd. The good shepherd lays down his life for the sheep. My sheep listen to my voice. I know them and they follow me. I give them eternal life. No one can snatch them out of my hand" (John 10).
It sounds so wonderful, doesn't it? It almost makes me feel like I should pinch myself. But it's true. That's who I am. I'm a sheep in the Good Shepherd's care. I didn't ask to be. I didn't deserve to be. I didn't make it happen. But that's who I am. How did I come to be such a fortunate individual? It was entirely by a gift of grace—undeserved love freely given by God to a sinful human being.
My life in God's grace began on August 11, 1979. I was born to Thomas and Karla Luehring of Appleton, WI. Unfortunately, I inherited their sinful condition which is common to the whole human race. If you'd ask them, they'd assure you that it didn't take long for me to start showing the symptoms of the disease in my behavior. And that sin had grave consequences. Literally. "The wages of sin is death" (Romans 6:23). That's scary as hell (again, literally) because being sinful also means that I'm not right with God and I can't be where God is. Hell is separation from God. Hell is where I belong.
That's where grace comes in. Fortunately, I was born to Christian parents. They trusted God to rescue me and had me baptized in September of 1979. I know what happened on that day even though I don't remember it and certainly didn't comprehend it as a little baby. The water was poured over my head. The pastor said the words, "In the name of the Father and of the Son and of the Holy Spirit" (Matthew 28:19). The power of God was present there in His promise: "Be baptized in the name of Jesus Christ for the forgiveness of your sins. The promise is for you and your children" (Acts 2:38-39). And so God made me His child. Jesus made me His little lamb. He called me by name.
I was rescued that day. I was snatched up out of the jaws of hell. I was washed clean of my sins. I was made spiritually alive. That day was my re-birthday. I was given saving faith in Jesus Christ as my Savior. Jesus lived the perfect life that I couldn't live and met all the demands God placed on me. God accepted that on my behalf and was satisfied. Jesus suffered through death and hell on the cross as He was separated from His Father to take the required punishment for my sins. Again, God accepted that on my behalf and was satisfied. Jesus rose from the dead to make it count. It's for real. All this assures me that I am now right with God and will go to be where He is. Heaven is where I belong.
My parents raised me in this faith and nurtured me in it. They didn't think of my baptism as just an old tradition. They knew it was a real spiritual beginning. They didn't think of my baptism as a lucky rabbit's foot either. They knew my baptism wouldn't do me any good if I didn't remain in the faith. It's because of them that I grew closer and closer to Jesus as I grew up. "Train a child in the way he should go" (Proverbs 22:6). My parents lived that command. I still remember the illustrated children's Bible they read to me. My Shepherd's voice was being channeled through them. In our home, they modeled for me, my brother Mitch (b. 1982), and my sister Brittany (b. 1986) the humility, charity, and forgiveness of Jesus. They regularly took us to church at Riverview Lutheran and enrolled us in the grade school there. No doubt about it, my childhood was a life lived in God's grace.
Somewhere along the way in my years at Riverview, God planted a thought in my head. "I might like to be a pastor when I grow up." God was making my connection with Him tighter and tighter throughout much of grade school—getting me ready. Bible history lessons and confirmation classes made a powerful impact. I looked forward to midweek Lenten services. I prayed for help on the mound between pitches in Little League. I liked Christian rock bands. I remember being very much aware of God's presence in my life. He satisfied me and comforted me and gave me confidence. I knew my Shepherd's voice. I was confirmed at Riverview in May of 1994, making my promise to "remain faithful unto death" (Revelation 2:10).
God paved my path to public ministry with the most excellent training. From 1994 to 1998, I attended Fox Valley Lutheran High School in Appleton, WI. From 1998 to 2002, I attended Martin Luther College in New Ulm, MN. From 2002 to 2006, I attended Wisconsin Lutheran Seminary in Mequon, WI (which included a year of on-the-job training under Pastor Dan Solofra at Mountain of the Lord in Rib Mountain, WI). It was a common path. From high school religion classes, to college Greek and Hebrew study, to Seminary preaching assignments, God was busy equipping me. I was putty in His hands (and I still am). The teachers, pastors, and professors who taught me at all the various levels of education were passionate, insightful, inspiring, knowledgeable, and encouraging. Above all else, they were faithful servants of God's Word. They are too numerous to list. But many of the things they said stuck with me. And the example they gave of a living faith probably means more to me now than it did then.
I must admit that I endangered my faith as I grew into adulthood. Many people of a certain age get drunk on the thought of freedom as they see the world bursting open before them. That's not an excuse. In my teens and well into my 20's, even when I was attending Christian schools and worker training schools, my focus on Jesus got pretty blurry at times. "If you think you're standing firm, be careful that you don't fall" (1 Corinthians 10:12). I even began to resist hearing my Shepherd's voice. By the time I got to high school there were more important things in my life. Music, sports, girls, hanging out with friends, causing trouble, wasting time, staying as far away from my parents as possible. At various stretches along the way I stopped going to church. I started filling myself with alternatives to God's Word. Garbage in, garbage out. I didn't stop believing but I wasn't living my faith consistently. I didn't much resemble Christ in my language or behavior. I remember Dad quoting Jesus to me: "No one can serve two masters" (Matthew 6:24). I remember six summers working in the lumber yard, sometimes speaking up for Jesus, sometimes not representing for Him very well at all. "Remember not the sins of my youth" (Psalm 25:7). I'm still very capable of drifting back into those ways.
Sometimes I'm not sure what pushed me through school in those years. At times, my attitude was: "I don't know what else to do. I have to finish what I started." Then there were the people I didn't want to let down. Besides my parents, I was also very inspired by godly grandparents to pursue a path of ministry. Grandpa Kaddatz was a farmer outside Shiocton, WI. He had the best work ethic I've ever known. He was very happy to see God's direction for me. Since he hardly ever spent anything on himself, he helped pay my tuition and spurred me on. Grandpa Luehring was a tender-hearted and soft-spoken reflection of Jesus. He was a much-liked teacher at Trinity Lutheran School in Kaukauna. I felt privileged when I would recall the possibility of following in the footsteps of a family patriarch and role model who had also served Jesus in the public ministry. So you see, these years were also lived in God's grace. The Savior kept calling me back. The Shepherd of my soul kept leading me forward to put me to good use. He was protecting me in the palm of His hand.
I have a favorite Bible passage painted on a wooden cross sitting on my desk. "'I know the plans I have for you,' declares the Lord, 'plans to prosper you and not to harm you, plans to give you hope and a future'" (Jeremiah 29:11). I have experienced the reality of this beautiful promise.
The greatest gift of grace given to me in this world came in the form of a cute little blonde girl who ran with me for the FVL cross-country team. Nicole Hoogervorst and I started dating in 1996. She became Nicole Luehring on December 27, 2003. I'm still really happy about that. "A wife of noble character who can find? She is worth far more than rubies" (Proverbs 31:10). So you know what she's worth. She is the nobler part of me. My conscience. And God knew I would need to be teamed up with her. Since we've been united, we come and go together as a team—as a unit. The support and encouragement God gives me for my ministry most often comes through her. In what was, hands-down, the most incredible physical feat I've ever seen, she gave birth to our son Ian on January 27, 2009. He is another gift of grace, born of God's will (hopefully God want us to have more children!), and an opportunity for me to frequently ask myself, "What would my Dad have done?" By the way, when Nicole's not busy saving our marriage, saving my ministry, and slaving for Ian, she carries out her professional calling in life as a registered nurse.
In my seminary training, especially the last two years, I could tell that God was working hard to reestablish my connection with Him—the kind that I had in my youth—and tighten it once again. He got me ready for service with a higher degree of spiritual maturity than I'd had before. It's still amazing to me that I ever got through school. One of my seminary professors once said, "God is making some of you to be pastors because it's the only way He figures He can keep you." I believe that might be true in my case. I'm forever grateful that God chose to forgive me, salvage me, restore me, renew me, and use me despite myself.
And so, in the summer of 2006, Nicole and I suddenly found ourselves on assignment at Immanuel Lutheran Church in Lakeside, Arizona. For six years we served alongside the Christians there and grew up in our faith with them. They became our family. And we loved them. Though I was ordained and installed as the shepherd of the congregation, I felt that in many ways the core members who are the heart and soul of that group strengthened and nourished my faith. I learned from my experience in Arizona that the Christian faith is more than religion. It's life itself. It's a life lived in God's grace. And my life continues in God's grace.
Having come to St. John Lutheran in Woodville in November of 2012, it still comforts me to know that I am an under-shepherd here. And I'm in the care of the Good Shepherd. I didn't ask to be. I didn't deserve to be. I didn't make it happen. But that's who I am. The Good Shepherd continues to call me and lead me. He's made it my heart's desire to follow Him and to bring others with me. I've been put here to share my experience of God's grace with you. It's my prayer and His will that you will know how much He loves you and how the thing He wants most for you is to see you fully restored in heavenly glory! I'll follow the sound advice given me by Pastor Eric Hartzell upon my arrival in Arizona as a nervous young pastor-to-be: "Just tell 'em about Jesus!" That's right! Because it's not really about me anyway, is it? It's about HIM! HIS story is my story. And it's your story too!
"It is by grace you have been saved, through faith—and this not from yourselves, it is the gift of God—not by works, so that no one can boast. For we are God's workmanship, created in Christ Jesus to do good works, which God prepared in advance for us to do" (Ephesians 2:8-10).